You too can benefit from the welcome bonus! Request more info at:
Rotomat Automatic Saws
The saw's rotating drum is loaded with split metre-long pieces. The drum's incline causes the wood to slip automatically to the adjustable base, where the internal saw blade cuts it to size. The drum advances to the next insertion channel as the sawing takes place. The sawed-off piece falls out onto the belt conveyor and is carried off. The remaining piece rests on the saw blade and is carried along to the 9 o'clock position, where it falls back to the base. This process repeats itself until the channel is empty.
When all channels are loaded, theoretical performance levels of up to 18 m3/h can be reached (depending on the model and cutting length). The belt conveyor, part of the standard model, ensures quick removal of the wood, with dropping heights of over 3 m. The cutting length of the wood can be set between 20-50 cm, depending on the model.

You'll enable quick sawing with high performance
and the utmost safety.
Drum saws are the best way to process
enormous quantities of firewood.
Rotomat 4L Pro
The Kretzer Rotomat 4L Pro is the next generation of the test winner from 2016 (Profi magazine, 2/2016 issue). No other machine on the market has so many adjustment, comfort and safety features.
Maximum log length 125 cm
Maximum performance 15 m3/h
Log length can be set hydraulically on a continuous scale between 20-50 cm without changing the drum
Carbide saw blade
Up to 68 cuts per minute
Stainless steel inserts
Adjustable drum speed
Adjustable belt conveyor speed
Belt conveyor can be swivelled
(enables the filling of a trailer without repositioning)
Metal base plate for wood
Chain curtain
Galvanised frame
Convenient switch-off, saw blade and system hydraulics can be controlled separately
Saw blade brake on shutdown
4.8m conveyor belt
Oil temperature display
Oil cooler
No V-belt drive (minimal maintenance and safe from overloading)
Convenient switch-off:
Simple and fast switching off of the drum turning, saw blade and belt conveyor functions with a single lever.
The system hydraulics can be turned on separately (e.g. the drum can be turned backwards or the base can be moved downwards without the saw blade moving) ideal when something is jammed in the saw blade.
The saw blade does not continue to run: it is braked on shutdown.
Integrated overload protection and gentle start-up of the machine: protects the machine and the tractor!
Rotomat 5L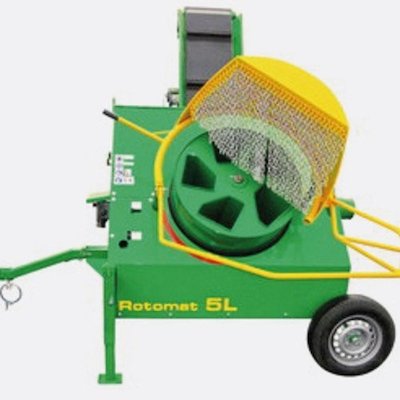 The Kretzer Rotomat 5L (the improved version of the Rotomat 6L) was the first drum saw introduced in 1996. The Rotomat 5L revolutionised the firewood saw market with productivity that had never been seen before. Even today, over 20 years after its introduction, this saw has not lost its popularity. The Rotomat 5L is a machine for true professionals.
Maximum log length 120 cm
Maximum performance up to 17 m3/h
Log lengths: 20/25/33/50 cm
High-quality carbide saw blade
4.5 m removal belt, 5.5 m version also possible.
Chain curtain
Up to 72 cuts per minute